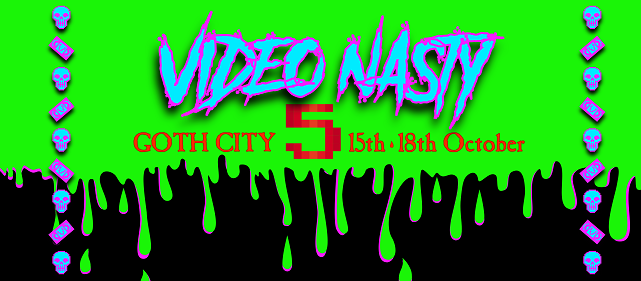 GOTH CITY FESTIVAL 2020-21: THE GREAT FLOUNCE FORWARD

• Goth City V: Video Nasty to take place from 15th-18th October 2020
• Goth City to move to a summer schedule from 2021

The story so far:
Since we began in 2016, Goth City Festival has firmly established itself as a part of the UK goth festival calendar, putting on many fantastic acts and building great relationships with venues, bands, and fellow promoters. We have raised over £10,000 for our chosen charity PAFRAS, and maintained our countercultural, anarcho-goth spirit by building a DIY, grassroots festival firmly rooted in the Yorkshire goth community. We are therefore delighted to celebrate our fifth anniversary this year.

The current situation:
It is clear that our current scheduling and operational structure presents real challenges for us. As a small, DIY festival we do not have the financial backing of other events in an increasing busy festival calendar, and we face difficulties both in raising the sums we wish for our charity and in attracting the acts we wish to perform at Goth City. In order for us to raise the figures we aim for (£2-£3,000 a year) and attract bigger national & international acts we need to have a greater number of attendees, and make the festival more attractive & professional.

What we are doing:
We have therefore decided to run Goth City over a compressed 4-night/2-day schedule, with various events taking place across Leeds, rather than over a weekend-to-weekend format, beginning in October this year. Furthermore, we will move to summer dates starting from 2021.

Why the compressed schedule?:
It is clear that many attendees are having to choose which weekend they attend at Goth City, and we consider it best that all our events take place over a single long weekend to maximise attendance and footfall in the city. It is clear that our weeknight events suffer as a result, and whilst the intention has always been for other promoters to utilise spare days during Goth City week for their own events ultimately few of them have done so. We therefore consider a 4-night, multi-site festival (similar to the model used at Leipzig and Whitby) to make perfect sense. There will be night events on Thurs 15th and Fri 16th, and events all day on Sat 17th & Sun 18th October.

Why the move to summer?:
The calendar of events is extremely busy for a two-month period from late August to early November, taking in Infest, Shadow of the Castle, Black Rose, HRH Goth/Industrial, various Halloween events, Tomorrow's Ghosts and other Whitby festivals, and Damnation. Running a goth festival on our current model during this period is therefore extremely challenging, both in terms of attracting supporters and in booking performers. We feel that by moving to the summer we will have the space to grow and develop as any event, attract exciting performers, and utilise outdoor event space in Leeds that we are unable to in October.

What else are you doing?:
We are improving and updating other parts of our operation, including ticket sales and web presence, and expanding our range of events and venues.

What steps are we taking the make the event sustainable?:
We are looking for small and independent shops, producers, and makers to join our team by sponsoring the event and will be approaching potential partners over the next few weeks.
We will also be looking to secure arts and other funding to consolidate the festival. Additionally, we will be looking for friends & supporters to help raise the required funds for our charity by extensive independent fundraising activities.

What if we are not successful?:
Changes to the scene, and to the personal circumstances of the organisers, mean that Goth City will need to become financially self-sufficient through ticket & merch sales, sponsorship, and arts funding within the next 18 months. We will be no longer be able to underwrite costs incurred by the festival after this year, so the future of the event is contingent upon this.

What happens now?:
We'll be announcing our first events and acts for 2020 over the next few weeks. The 2021 dates will be announced as soon as they are confirmed.

How can we help?:
Spread the word, share our events, buy merchandise and tickets, and keep the Wessie faith. See you in October!
Click below to donate to the Goth City Festival Snakebite & Black Fund for Vainglorious Music Promoters - please give generously!