HOME SCHEDULE FAQ TICKETS MERCH LINKS CONTACT
TICKETS NOW ON SALE!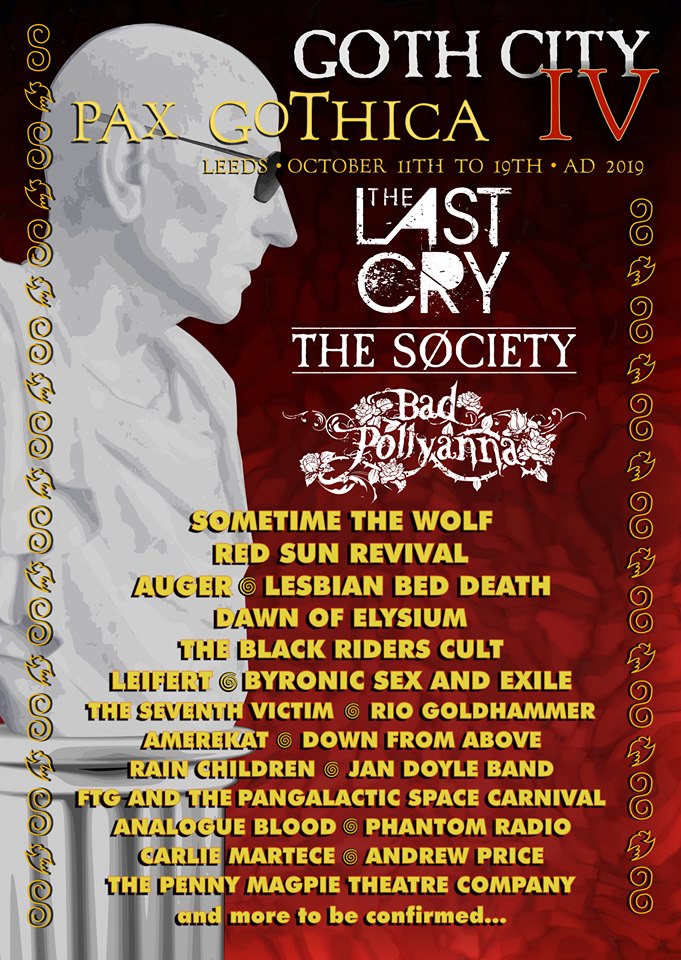 ****Venue change! - the Sometime The Wolf & The Black Riders Cult gig on 12th October has been moved from the Fox & Newt to Temple of Boom, Byron Street Mills, Millwright Street, Leeds LS2 7QG. All other details remain the same. ***
After the continued success of the first three Goth City Festivals, we are delighted to confirm that we will return for our fourth slab of immense Yorkshire gothic in October.
'Pax Gothica' will celebrate the unprecedented unity in the West Yorkshire scene, starting with the Opening Ceremony on 11th October and ending with the main event on 18th-19th October. We have many fantastic acts and other treats waiting to be announced over the coming weeks, so watch this space!
The event will continue to be a benefit for PAFRAS, whom we were fortunate to raise over £2,600 for last year. Every penny we raise will go towards supporting their invaluable support with local refugees and asylum seekers, so let's break our £3,000 target in 2019!
So friends, Wessies, gofficks - lend us your ears! 'AVÉ IT!
Acts confirmed so far: The Last Cry, Bad Pollyanna, The Society, Red Sun Revival, Lesbian Bed Death, Auger, Sometime The Wolf. Dawn of Elysium, Rain Children, Jan Doyle Band ,The Black Riders Cult, Byronic Sex & Exile, AMereKat, Leifert, The Seventh Victim, Down From Above, Rio Goldhammer, Carlie Martece - Artist & Writer, Andrew Price, the Penny Dreadful Theatre Company, FTG and the Pangalactic Space Carnival, Analogue Blood, and Phantom Radio!
Click below to donate to the Goth City Festival Snakebite & Black Fund for Vainglorious Music Promoters - please give generously!