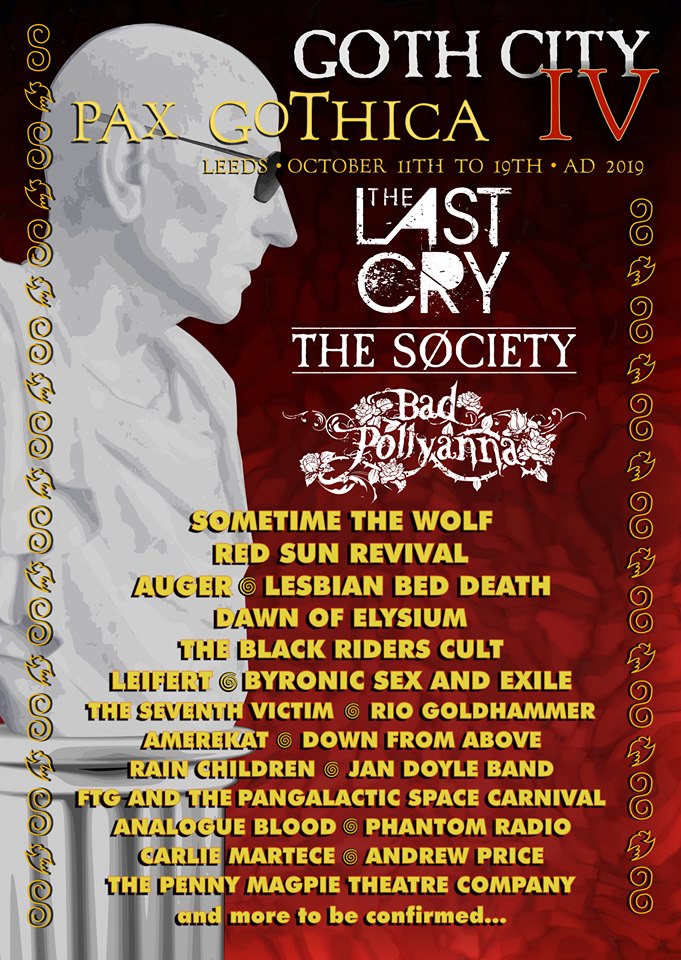 GOTH CITY FESTIVAL 2017: TOTAL GOTHIC K.O!

We are pleased to announce that the second Goth City Festival will take place throughout Leeds from 5th-22nd October 2017.

2016 FESTIVAL FEEDBACK

We were of course extremely pleased with how successful the inaugural Goth City Festival was, not only in terms of the amount of support we received but also in the execution of the various events. We received many very helpful suggestions and feedback after the event, which we have tried to take on board with this year's festival.

Our general thinking has been to try and consolidate the success of the first festival and make sure that Goth City Festival is here to stay. We have received many suggestions on how the festival can grow in the medium term that we are very excited about, however we considered it to be important to ensure that our second festival was as successful as the first before we look to expand. So this what we have tried to do in organising Goth City Festival 2017.

DATES

The festival will take place from 5th-22nd October 2017, with the main weekender taking place on 20th-21st October. This means the event takes place roughly a month earlier than last year's event.

Our thinking behind this is to try to obtain a regular place in the UK goth festival calendar, which effectively is bookended between the April and November Whitby Gothic Weekends. It is our intention to make this our regular slot from now on. As always, we have worked to avoid any clashes with other goth events run by our colleagues in the scene.

Bringing the festival forward also avoids a situation where some potential members of our audience may be short of money post-Whitby and pre-Xmas, and means the festival will take place in the pre-Halloween rather than pre-Xmas period, which in itself presents many exciting opportunities for events and collaborations during future festivals.

BANDS

With the exception of specific bands/artists that are key to the delivery certain of events we are having an entirely different roster of bands from those we had last year. This is to ensure that we don't get into a situation where the same bands play every year and where acts no longer seem special or fresh, but also so we can focus on looking for new bands and present opportunities for different acts to perform.

This also means that from 2018 we will be able to choose the line-up from a wider pool of acts and continue to provide a great event.

EVENTS & VENUES

The schedule and type of events will follow a similar format in 2017 as we did last year, with the exception of some new events we are working on and a few tweaks to the schedule to make sure we get the most out of the Goth City fortnight. We are also using most of the same venues as 2016 that have supported us in getting the festival off the ground.

We intend to announce running orders of events much further in advance, and ensure that the main weekend event has on-site catering for bands and audience.

TICKETS

The basic ticket pricing structure for Goth City Festival 2017 will remain broadly the same as last year. We will however be aiming to provide advanced ticket sales for more of our events in 2017. We are also looking at the possibility of having a Goth City Festival 2017 'season ticket' that allows access to all Goth City Promotions events throughout the fortnight.

CHARITY

Last year's event raised £3,500 for our designated charity PAFRAS (Positive Action for Refugees and Asylum Seekers), which was a fantastic result. There is obviously a big opportunity for the festival to make a real difference for the community in Leeds if we can continue to raise money in those amounts.

In future as the festival develops we would like to move to a rotational model of having different designated local charity or charities every year. So although we are making PAFRAS our designated charity for Goth City Festival 2017 we will be looking to review how we focus our charity work for next year's event.

We will be donating the profits, rather than all the proceeds, to our charity for this year's event to ensure that the costs of the festival are sustainable. We will also however be approaching community organisations, trade unions etc at a much earlier stage to try to obtain as much financial support for the festival as possible and ensure more money goes to the charity.

We will also be organising a day of 'outreach' community activity involving local goth bands and artists to make sure the festival is firmly rooted in the community and supports progressive and inclusive social causes.

We will be looking for suitable alternative businesses and organisations to help sponsor the event and our festival programme. We are also looking to produce a larger range of merchandising to help cover the costs of the event, in addition to our Goth City Festival mugs which are sure to become ubiquitous over the coming years.
Click below to donate to the Goth City Festival Snakebite & Black Fund for Vainglorious Music Promoters - please give generously!